---
Welcome
Looking for a new challenge?
Want to make new friends?
Do you enjoy outdoor activities?
Need some light exercise?
Bowls, or lawn bowling as it is known, is a sport that men and women of all ages can play together on an equal basis.
Physical strength plays a small part in this game. Much like curling, skill and strategy are the real factors.
Members enjoy competing in tournaments hosted by our club and at other clubs around the province as well. For social bowls (mixed), teams are 2, 3 or 4 people. Since there are no set teams, you are not obligated to be there every day.
One of the best things about lawn bowling is it doesn't require a lot of expensive equipment. All you need is a pair of flat soled shoes, and you're on your way. We will provide everything else you need to get you started off on the right foot.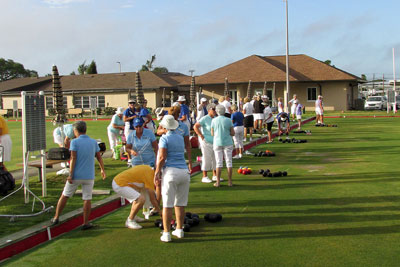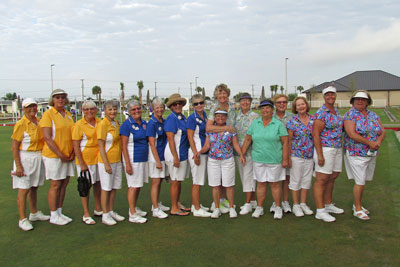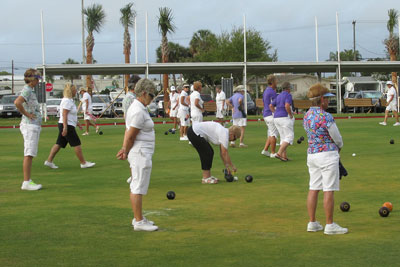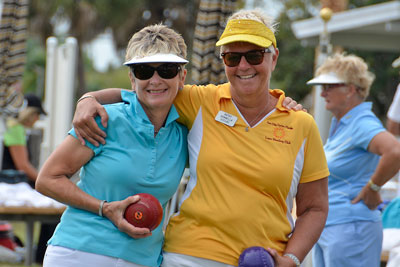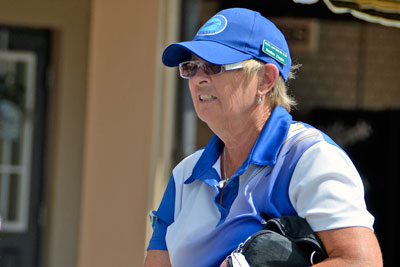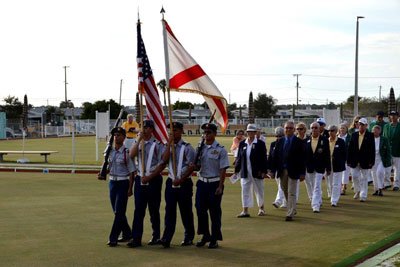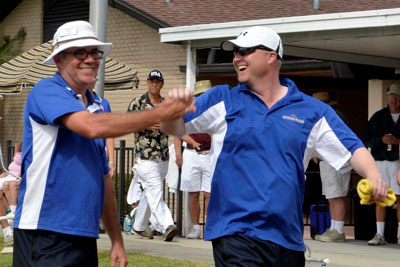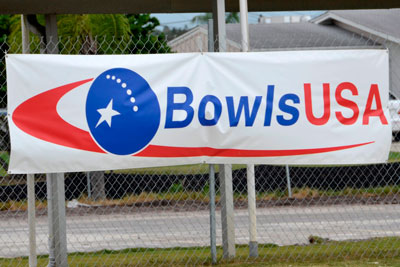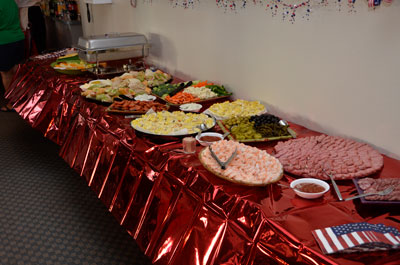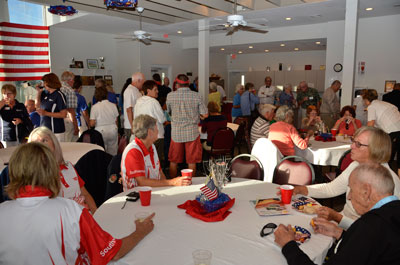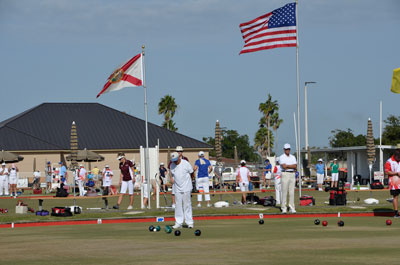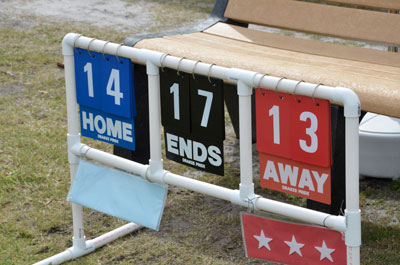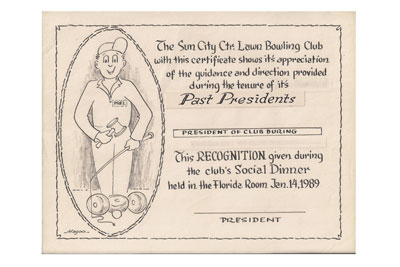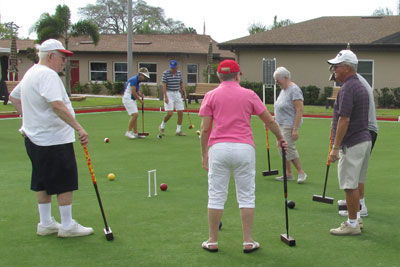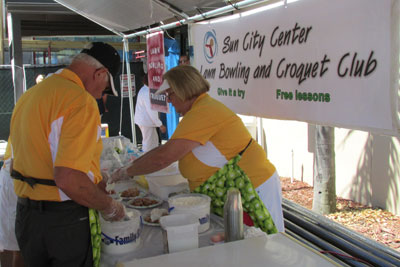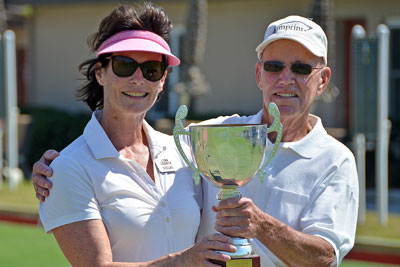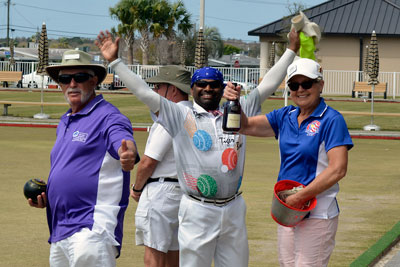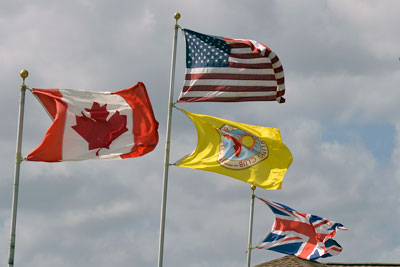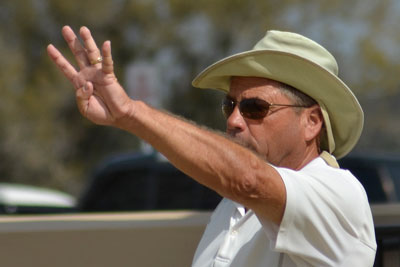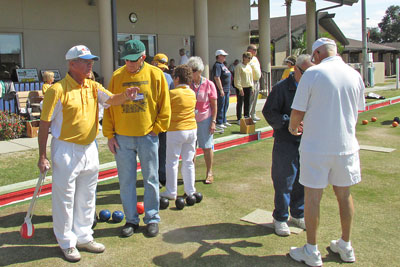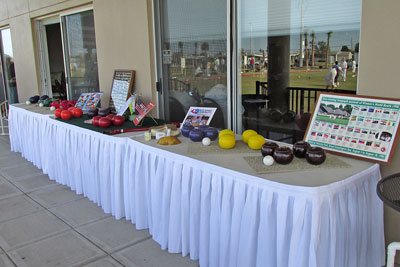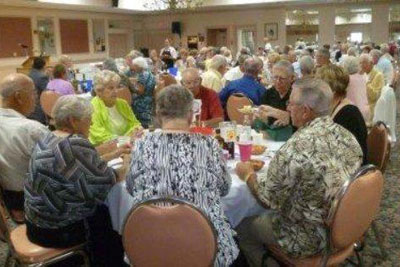 We welcome all visitors, so why not drop by see how the game is played! Learn more about our club here
Quick-links
---
Calendars and Events
Southeast Division Calendar
Click or touch here
SCC Invitational Tournaments
Invitational Tournament inquires can be sent to the Tournament Director ()
Please send entry forms and payments to;
Joe Mignogna, 2441 Nottingham Greens Dr., Sun City Center, FL. 33573
Telephone - 813-938-3176 Email ()
Upcoming Tournaments (Click or touch to download the registration form)
---
Results
Close "Results"
Novice Championship December 1, 2017
Mary Chamberlain, representing the women and Larry Johnson, representing the men, played for the Club Novice Championship title. This game went 30 ends before Larry reached 21 points for the win and the title of SCCLBC Novice Champion.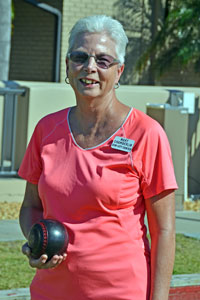 Mary Chamberlain
Ladies Novice Champion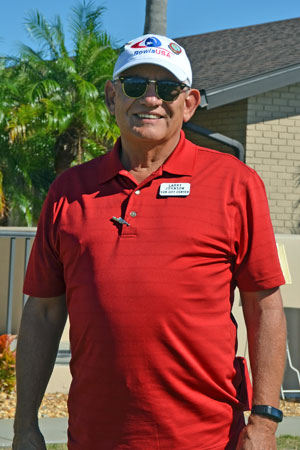 Larry Johnson
Novice Champion
Men's Pairs, Ladies' Pairs, November 26, 2017
Sixteen mens teams and 12 ladies teams competing.
Ladies:
1st place - Christine Garbett and Lena Cameron from The Villages LBC.
2nd place - Sandra Whitelaw (Scotland) and Sue Abbott (Sarasota).
3rd place - Natalie Lanouette and Anita Carr from the SCC club.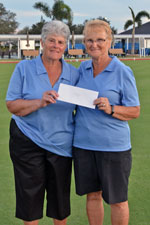 Men:
1st place - Rick Czachor and Garry Higgins from SCC.
2nd place - Eric Porr and Jim Savage from SCC.
3rd place - George Whitelaw (Scotland) and George Menzies (Sarasota).
4th place - Carman Morris (Sarasota) and John Williams (TOTW).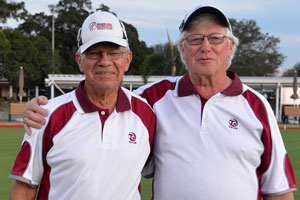 Fall League Finals, November 2, 2017
Congratulations to the winning team, Ben Caudill (Skip), Phil Griffin (Vice), Peder Jansson (Lead) along with Jim Ferguson (Sub). In second place in the mix was Eric Porr, Robert Traytwein and Steve Esenbock. In third place was Bob Fladung, Gina Tucker and Joel Deitch. Mike Perkins' team (Mike, Ava Casper and Shep Shepard) took fourth place.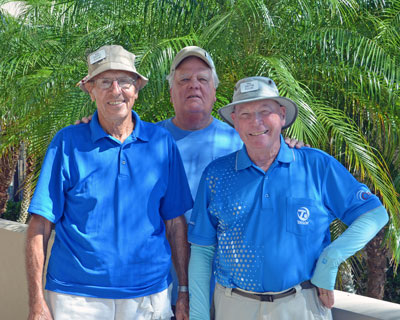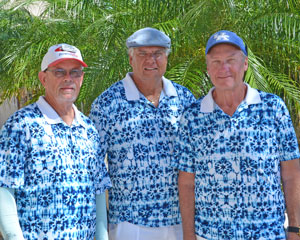 Memorial Day Tournament, June 5, 2017
Today, under a very hot Florida sun, a group of 24 bowlers played the game of 4-3-2-1. This was a fun game that was enjoyed by all. The day started out with coffee and breakfast treats.
Bowling began with six groups of four bowlers each. Each bowler is their own team. They play for themselves in hopes of winning the prizes that would be handed out after the games were done. Today, the winners in the money were: First Place - John Dumas; Second Place - Sandy Gill; Third Place - Zeke Trojanoski; Fourth Place - Howard Baker.
Between the morning and afternoon games, a delicious lunch was served by our Social Chairman, Peder Jansson. Ice Cream after the games were over topped the day off.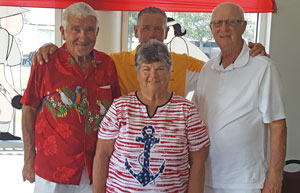 Spring Fling, April 7, 2017
Another fun afternoon at the club. Thanks to Cindy Higgins and Joe Mignogna for organizing this year's " Good-bye to Snow birds " event. 44 people enjoyed lunch and 42 played the 4-3-2-1 game. The winners were: First - Joe Mignogna, 2nd - Ava Casper and 3rd - Ben Caudill. In a fine demonstration of precision bowling, Vicki Johnson won "the Spider".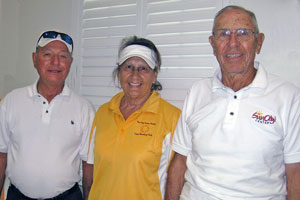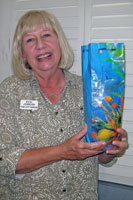 Men's Club Singles and Club Singles, March 20 & 21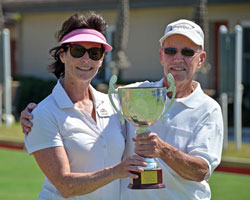 It's been quite the season for Bob Ferguson. No doubt his specialty is "Singles" play. Leading up to the final singles match, he had won the "Junior" Singles Championship, the "Pebble Beach" Singles and the "Club" Singles for men.
In one of the highlights of the lawn bowling season, the playoff for the overall Club Singles Champion, it was Bob (the Men's Singles Champion) against Lynn Cranch, the current Women's Singles Champion.
This match up provided spectators a with great game to watch and lots of opportunities to cheer. There were several tied ends as the game went back and forth. However, after 17 ends, the game was Bob's and he was presented the Sun City Center Lawn Bowling Club's Singles Champion trophy to add to his collection, for a total of four championship singles wins this year.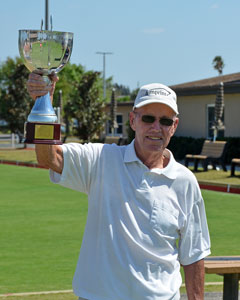 Hawken Australian Pairs Invitational, March 19, 2017
32 teams from Sarasota, Maple Leaf (Port Charlotte), Clearwater, World Parkway (Clearwater), Lakeland and Sun City Center played in this year's event. Standings;
First Place - John Williams & Sandy Wall (World Parkway)
Second Place - Peter & Lesley Kurn (Lakeland LBC)
Third Place - Phil Payne & Heather Domar (Maple Leaf)
Fourth Place - Cindy Higgins & Bob Fladung (SCCLBC)
Fifth Place - Terry Taylor & Judy Anderson (Sarasota LBC)
Sixth Place - Garry Watts & Mary Meldrum (Sarasota LBC)
Last Game High - André Bisset (Sarasota LBC)
Pictured right, John Williams and Sandy Wall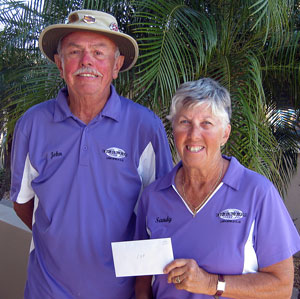 Club Women's Singles, March 17, 2017
Lynn Cranch and Cassie Krowl played the final match for the ladies club champion in singles. On any given day either Lynn or Cassie could have won, the game was that close. This match was played until one player reached twenty-one points. At various times throughout the game, both had the lead, fell behind and were tied. However, today was Lynn's day. She now holds the title of SCCLBC Women's Club Singles Champion.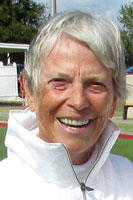 Cassie Krowl
2017 Club Women's Singles Champion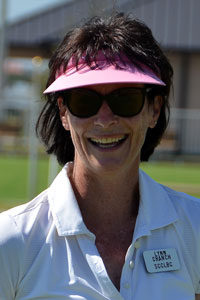 Lynn Cranch
Pebble Beach Singles, February 20 to 27, 2017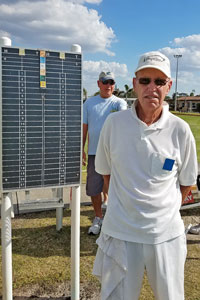 This single knock-out tournament started out with twenty-fours contestants on the 20th. In the final it was Bob Ferguson and Ron O'Sullivan paying under a very hot Florida sun for the title of Pebble Beach Singles Champion. Bob Ferguson captured the lead after 22 ends with the final score coming in at 21 to 16. Congratulations to Bob, the 2017 Pebble Beach Club's Singles Champion.
Del Webb Invitational, February 18, 2017
We had a full house (32 triples teams) again this year for this popular annual invitational tournament. Finishing in first place, the Sarasota team of Clare Morris, Carman Morris and Judy Bacon (pictured). Winning three games and finishing in second place, the team of Cindy Higgins, Bob Fladung and Lynn Cranch. Also in the money in forth place Chris Heller, Jerry Healy and Cassie Krowl. Eighth place went to Ron O'Sullivan, Garry Higgins and Jim Ferguson (lost to Cindy in the third game). Last game high went to Eric Porr, Jim Savage and Robert Trautwein.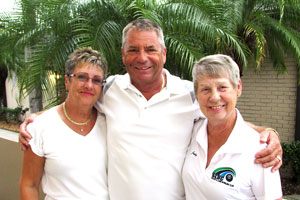 Burbery Cup Challenge, Feb 15, 2017
This year we had 16 teams playing, 8 men and 8 women's teams. The women won 3 of the matches, the men 5. What a low blow it was that Natalie Lanouette's team didn't come in the winning column. The entire game was so close with the women carrying the lead or a tie throughout. Ron O'Sullivan was skipping for the men and it came down to his last bowl. He delivered it and we all held our breath. Yes, it was a good delivery, came right down the rink and drew in right between the jack and the shot bowl and there it stopped. Of course, the women are good sports and they congratulated the men even though their thoughts were focused on next year.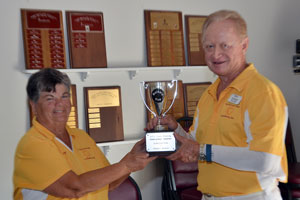 The Burbery Cup was presented to the President of the Pebble Beach Club, Mike Perkins by Sandy Gill, President of the Suncoasters club.
Valentine's Day Club Tournament, Feb 14, 2017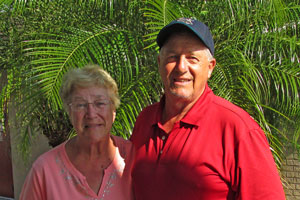 Two games were held with a bountiful lunch in between. Chicken strips and Cuban sandwiches were on the menu along with potato salad, macaroni salad, potato chips and cold drinks. After bowling there were Ice Cream sandwiches for all. Joe Mignogna was our tournament director and it sounds like he organized a fun day for all 28 bowlers.
The tournament results came down to;
1st place - 2 games won and 33 points, Ron and Gail O'Sullivan
2nd place - 2 games won and 28 points, Natalie Lanouette and Carl Zajac
3rd place - 2 games won and 26 points, Joe and Barb Mignogna
4th place - 2 games won and 25 points, Bob Mendrala and Sandy Gill
Pebble Beach Pairs January 30 to February 10, 2017
When the men from the Pebble Beach club wrapped up their pairs games, it was Garry Higgins and his partner, Paul Melvin challenging Joe Mignogna and Ben Caudill for the coveted title of Pairs Champion, Pebble Beach Club, 2017. Congratulations to Joe Mignogna and Ben Caudill for their win in this 16 end game.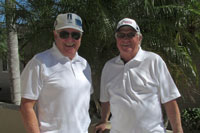 Paul Melvin & Garry Higgins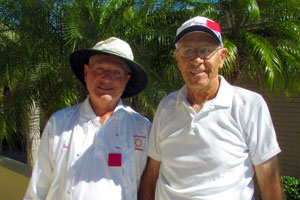 Joe Mignogna & Ben Caudill
Sun City Center / Kings Point Home and Home Series, February 7 & 9, 2017
On February 9th, SCCLBC visited our closest competitor bowling club. Thanks to Jim Blaine and Jim Ferguson for arranging all the Kings Point details. For this session, the total games turned out to be a draw, each club winning 4 games. The Kings Point hospitality was returned on February 9th, when the series moved to our club where we swept all eight games. Thanks to Rick Czachor coordinating the SCC teams.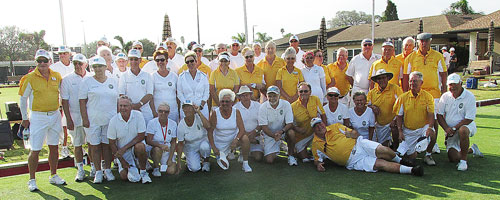 Suncoasters Singles Final February 3, 2017
In the semi-final matches, it was Kathy Gonnella vs Chris Heller and Lynn Cranch vs Cindy Higgins. In the final, it was Cindy over Chris to become the 2017 Suncoasters Singles Champion.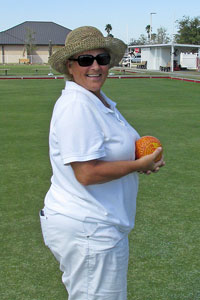 Chris Heller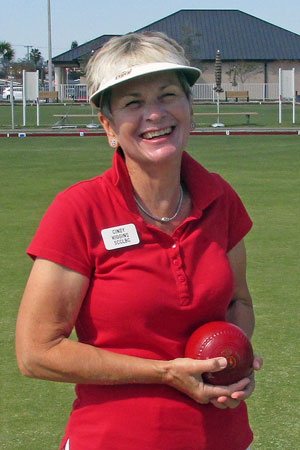 Cindy Higgins
Junior/Senior Tournament January 23, 24 & 30, 2017
The "Juniors" are members aged 70 through 79 and the "Seniors" are 8o years and over. On the Senior side, it was Glenn Baumann over Ben Caudill (runner-up last year and the 2015 Champion). For the Juniors, it was Bob Ferguson winning against and Jim Savage.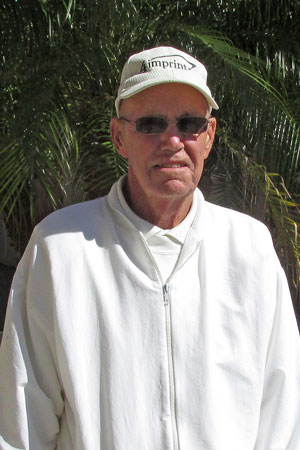 Junior Champion; Bob Ferguson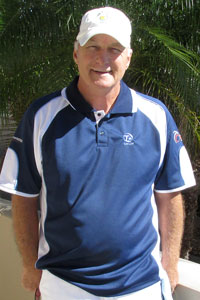 Junior Runner-up; Jim Savage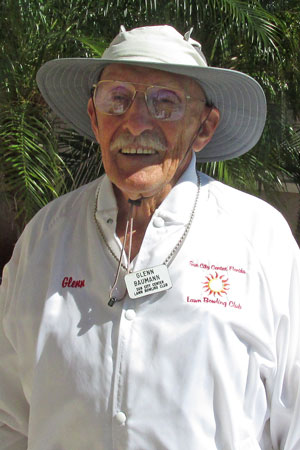 Senior Champion; Glenn Baumann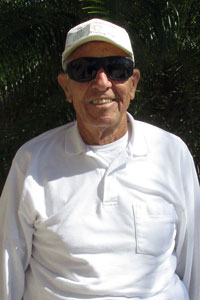 Senior Runner-up; Ben Caudill
Leads Only Tournament, January 24 - 28, 2017
Twelve "Lead" bowlers entered this single-knockout, singles event playing to fourteen points. The final was played to sixteen points and had Pam Davis playing against Jim Johnson. This was a well played match that could have gone either way. However, the day belonged to Pam who took the win after nineteen ends.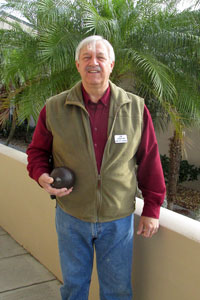 Jim Johnson
Pam Davis
Novice Championship January 23, 2017
Lynn Cranch, representing the women and Eric Porr, representing the men, played for the Club Novice Championship title. In this singles game, the first person to reach 21 points is the winner. It was a close game, Lynn was ahead in the count for several ends. Even though both had the handicap of a very windy day, Eric pulled ahead and won the title of SCCLBC Novice Champion.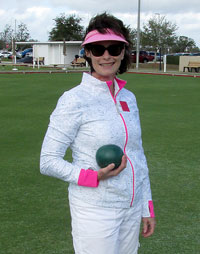 Lynn Cranch
Eric Porr
Club Mixed Pairs January 16 - 23, 2017
The final match for our club's mixed pairs champions had Jerry Healy (Skip) and Cassie Krowl (Lead) versus Glenn Baumann (Skip) and Nancy Spencer (Lead). Both teams played well on this windy day. The game was played to 16 ends, Jerry and Cassie kept their lead and were the winners.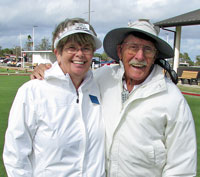 Nancy Spencer & Glenn Baumann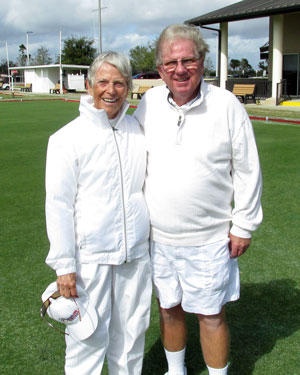 Cassie Krowl & Jerry Healy
Tuesday League Play-offs January 14, 2017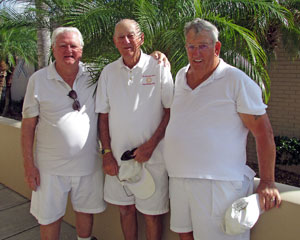 Overall Winners
Fred Kalhammer
Dave Barrett
Jim Ferguson
Pebble Beach Triples January 2 to 6, 2017
After a week of single-knockout play, the championship match had the team of Joe Mignogna (Skip), Glenn Baumann (Vice) and Jim Ferguson (Lead) against Paul Ward (Skip), Paddy Lennon (Vice) and Rick Abell (Lead). The teams played a close game and were only one point away half way through the match. Congratulations to Joe, Glenn and Jim, the eventual winners and now the Pebble Beach Triples Champions.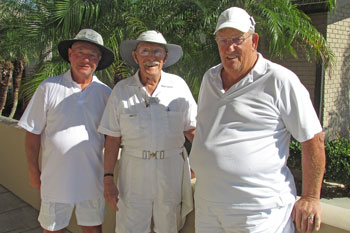 Joe Mignogna (Skip), Glenn Baumann (Vice) and Jim Ferguson (Lead)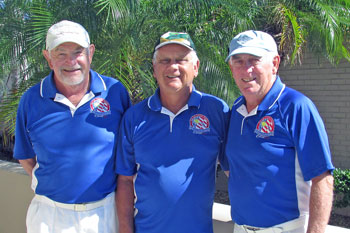 Rick Abell (Lead), Paul Ward (Skip) and Paddy Lennon (Vice)
Suncoasters' Pairs January 2 to 5, 2017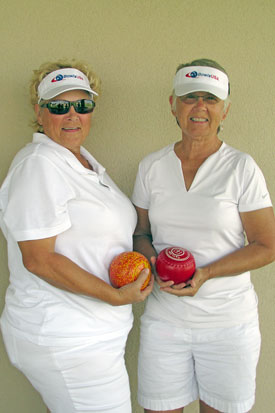 Under a bright Florida sky, the Suncoasters (ladies club) played their final match for "Pairs Champion". Chris Heller and Sally Mabesoone played against Barb Mignogna and Anita Carr. Both Sally and Anita are new bowlers, having bowled less than one year. Chris and Barb played a game that brought those watching to their feet, clapping for those excellent shots.
This game, since it was a final, was played for 16 ends. In the 15th end the two teams were tied. With the last bowl in the 16th, Chris Heller took the point and the match. So, Chris Heller and Sally Mabesoone (pictured left) have the title of Suncoasters' Pairs Champions, 2017. The runner up team is, of course, Barb Mignogna and Anita Carr (pictured right).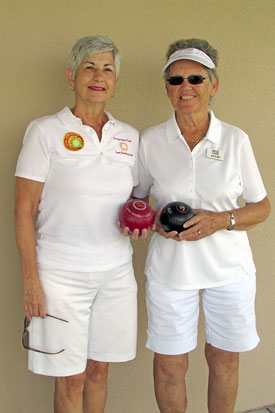 Club Memorial Triples, December 15-19, 2016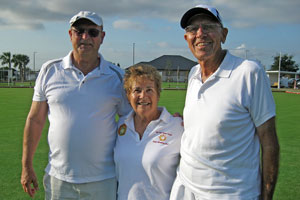 Winners:
Jon Blanchard, Cecelia McBride,
Ben Caudill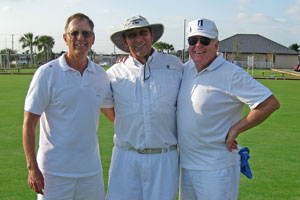 Runners up:
Jim Casper, Carl Zajac, Paul Melvin
Suncoasters Triples, December 9, 2016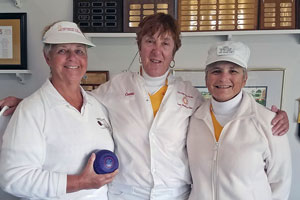 In the final game of the Suncoasters (ladies) Club annual Triples tournament, it was the team of Linda McDougall (Skip), Cassie Kroll (Vice) and Donna Blaine (Lead), against Kathy Gonnella (Skip), Carol Fahnestock (Vice) and Corrie McLellan (Lead). The winner was Team Gonnella. Great game! Great weather!
Pictured left to right, Kathy, Corrie and Carol.
Men's & Ladies' Invitational Pairs, November 27, 2016
16 men's teams and 10 ladies' teams entered the fourth annual Men's and Ladies Pairs Invitational Tournament. Three 12-end games were played under sunny skies and moderate temperatures. Visiting teams came from Sarasota, Clearwater, The Villages and Port Charlotte. The winners for the ladies were Kathy Smith and Joelle Russell (Port Charlotte) and for the men, George Menzies (Sarasota) and John Dunn (Scotland).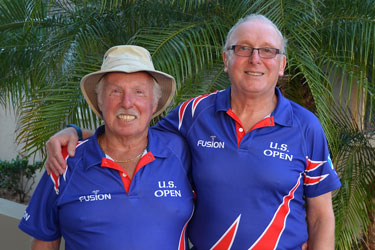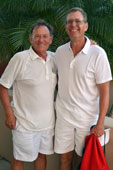 Mens' Fourth place
Jim Byrne & Jim Casper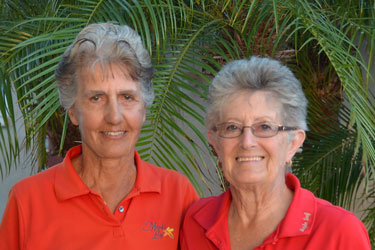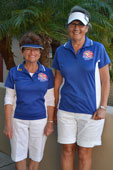 Ladies' Second place
Diann Thomas & Ava Casper
Invitational Mixed Pairs Tournament, November 9, 2016
Our annual Mixed Pairs invitational tournament attracted 28 teams in total and included visitors from the Sarasota Lawn Bowling Club, Clearwater LBC, Top of the World LBC and the Sun-n-Fun LBC (Sarasota). Also playing in the tournament were out of country guests from Pointe Claire Quebec, Arnprior Ontario, and Jersey Channel Islands.
This year's event was won by the Clearwater team of June Paciga and Ron Ridley pictured). Second place went to Derek Boswell and Chris Grimes (Jersey). The Sun City Center team of Jim and Ava Casper won the prize for last-game-high.
The international players were here to participate in the Bowls USA Open being held here and the Sarasota Lawn Bowling Club. The Open is a week long event starting Saturday, November 12th.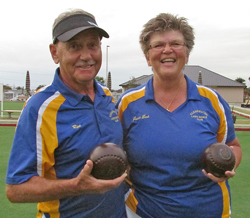 Fall League Playoffs, November 1- 4, 2016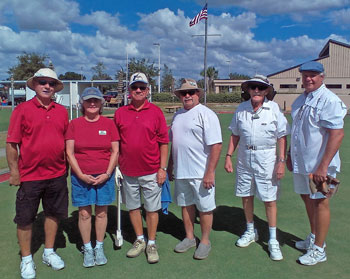 Twelve teams competed in this year's "Fall Fun League". In triples format, the teams played for 5 weeks, followed by a, best two out of three, Championship Series. Gold, Silver and Bronze medals were awarded and cash prizes for first to fourth place.
The Championships had the team of Rick Czachor, Joe Mignogna and Linda Mostov, the eventual gold medal winners, playing against Glenn Baumann, Eric Porr and Joe Mattia . The Championship players pictured left to right, Joe Mignogna, Linda Mostov, Rick Czachor and runners up, Joe Mattia, Glenn Baumann Eric Porr.
Labor Day Tournament, September 5, 2016
Today, in very hot, humid weather, we had twenty-eight of our bowlers out to challenge one another in the fun game of "4-3-2-1". Joe Mignogna and Kathy Gonnella were our tournament directors for this two game event. The bowlers were having a good time enjoying the game and lunch as well. Six of our bowlers were in the money. Bob Valliere came in 6th with 73 points. Jim Savage placed 5th with 74 points. Jim Casper had 75 points which ranked him 4th. Paul Melvin brought in 78 points giving him 3rd place. Glenn Baumann, the seasoned bowler in the group, came in 2nd with 83 points. And, a special congratulations to a new bowler, Eric Porr, with a 96 point total.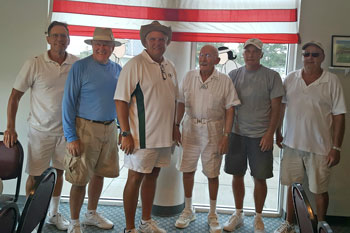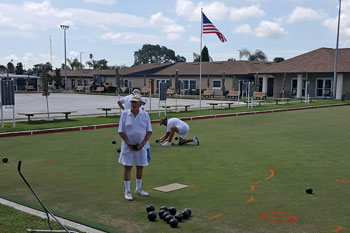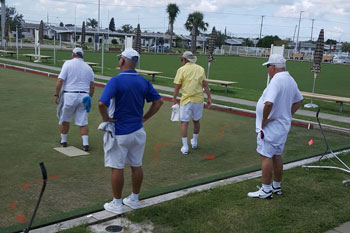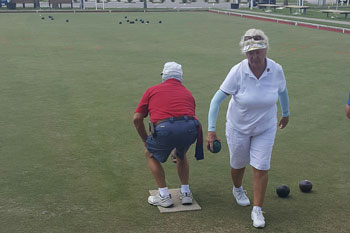 ---
Resources
Close "Resources"
PDF Reader
Some resources on this site are in PDF (Portable Document Format). Documents, forms, graphics, and web pages in PDF look just like they would if printed. PDF files can contain clickable links and buttons, form fields, video, and audio. Virtually anyone can read PDF files using the free Adobe Reader® software.

Links
The following links to clubs and official lawn bowling sites may be of interest.
Coach's Corner
Tips, hints, advice and other information from our Club on how to improve your game and also provide information for all lawn bowlers on the rules and etiquette of the sport.
---
News and Activities
Close "News"
Sun City Lawn Bowlers fare well at U.S. Open, November 2017
Bowls USA held its annual Open competition in Sarasota and Sun City Center, November 12th to 19th. The six-day event attracted two hundred and sixty-two competitive lawn bowlers from twelve countries around the world. Some two hundred and fifty matches were played at Sun City Center in addition to the events played at the Sarasota lawn bowling club at the Sun-n-Fun Resort in Sarasota.
The SCC lawn bowlers who placed were;
In the Men's Singles, Flight 6 second place, Joe Mignogna.
In the Men's Pairs, Flight 5 winner, the team of Paul Ward and Bob Fladung. Flight 5 runner-up, Jim Savage and Eric Porr.
In the Men's Fours, Flight 4 winner, the team of Paul Ward, Jim Bryne, Bob Fladung and Joe Mignogna. Flight 4 runner up, the team of Paul Melvin, Robert Trautwein, Jim Savage and Eric Porr. Flight 5 winner, the team of Jerry Healy, Carl Zajac, Phil Griffin and Bob Ferguson.
In the Women's Singles, the Silver Medal went to Cindy Higgins.
In the Women's Fours, an international team skipped by Cindy Higgins was the Flight 3 winner.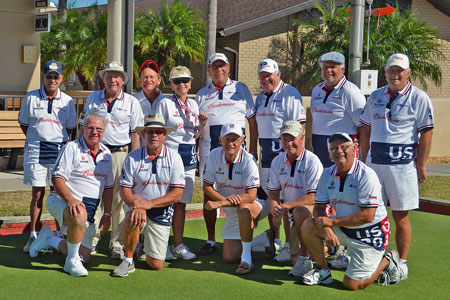 Front row, (L to R), Jerry Healy, Robert Trautwein, Bob Fladung, Joe Mignogna, Paul Ward Back row, Bob Ferguson, Phil Griffin, Jim Bryne, Cindy Higgins, Carl Zajac, Paul Melvin, Eric Porr, Jim Savage
Popular Invitational Named after Jack Phillips, April, 2017
The SCC Lawn Bowling Club has named the Mixed Pairs Invitational Tournament in memory of Jack Phillips. His strong support and willingness to share his knowledge over the years has been helpful to us all. The inaugural tournament will take place November 9th, 2017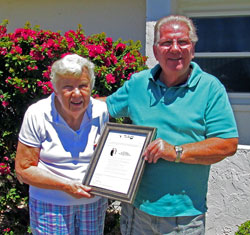 President Jerry Healy delivers the news to Bev Phillips and at the same time, thanked her for continuing to help the lawn bowling community and our club in particular, when questions arise.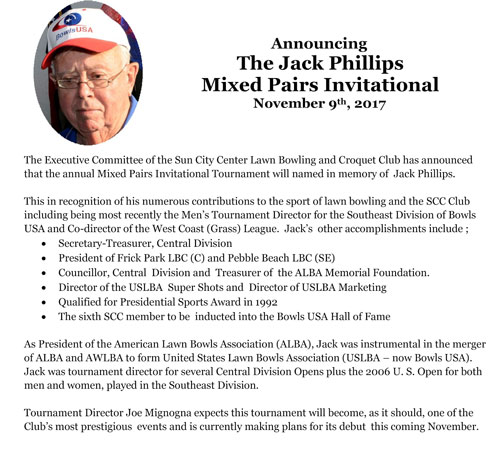 Croquet Class - February, 2017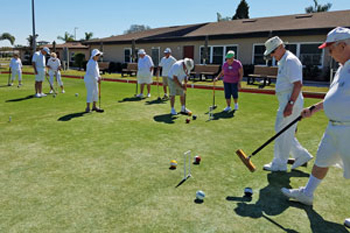 From right to left: Rick Czachor, Don Oakley of Canada (teacher and sales), Diane Saunders, Leslie Daniels, Linda Daniels, Jim Saunders, Sandy Czachor, Diann Oakley and Hilary Boyle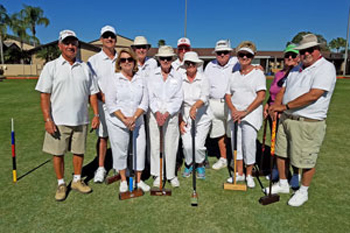 From left to right: Rick Czachor, Jim Dyal, Teaching Pro of BelAir Club, Debbie Dyal, Ray Heck, Edna Heck, Jim Saunders, Diane Saunders, Dick Hall and Pat, Linda Daniels and Leslie Daniels
SCCLBC Welcomes New Bowlers - February, 2017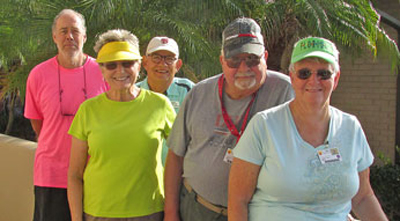 New lawn bowlers, left to right; Mark Finn, Barbara Wagner, Larry Johnson, Les Daniels and Linda Daniels. Shirley Arnold is missing from the photo.
SCCLBC Welcomes New Bowlers - January, 2017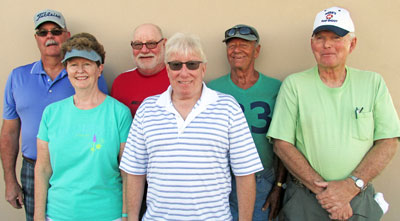 New lawn bowlers, left to right; Jim Lobdell, Mary Lobdell, Mike McGregor, Kim Place, Gary Persinger, Ron Caldwell. Cyndy Place not in photo.
SCCLBC Welcomes New Bowlers - December, 2016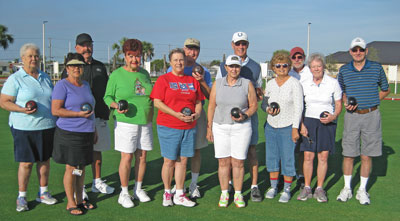 New lawn bowlers, left to right; Cheryl Huffam, Roni LaFleur, Dan LaFleur, Bonnie Hopkins, Barbara Cleary, Rich Cleary, Joanne Moore, Kevin Moore, Pam Davis, John Magnacca, Betty Jenkins, and Tom Fallon.
"Golf" Croquet comes to Sun City Center - June 2016
On on this very hot June 1st afternoon, about 30 people came out to learn how to play the new game in town, the modern sport Golf Croquet. Kathy Gonnella has taken the responsibility of getting this new sport off and running.
Our lawn bowling green and precision equipment set the stage for an addictive game of skill and strategy. We had Instructors present so everyone was given expert coaching. The basics were easy to learn, and it was a lot of fun.
After learning the rules and practicing the game for twenty minutes, new players took over. Then, when everyone had taken a turn, a social was held in the Eberhart building.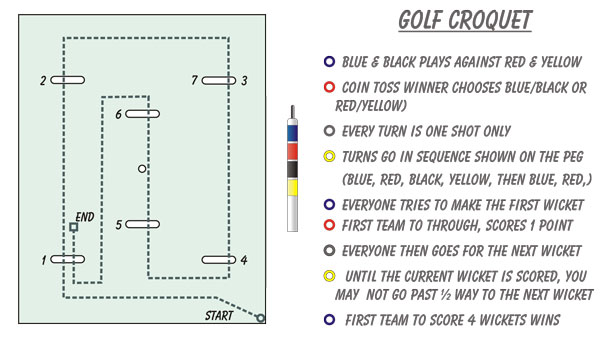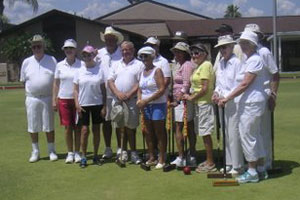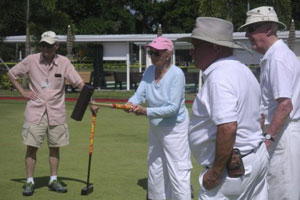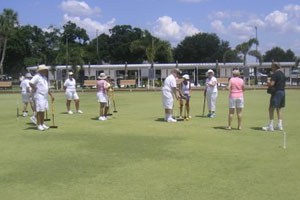 Another training session is scheduled for next Wednesday, June 8th, at 7 pm. We invite you to come and watch if you do not wish to play. Like lawn bowling, Croquet is a competitive sport with a relaxed, sociable atmosphere, and a strong tradition of sportsmanship.
SCCLBC Welcomes New Bowlers - April, 2016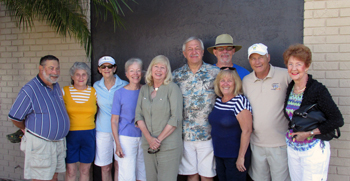 New lawn bowlers, left to right; Don Mostov, Linda Mostov, Judith Poorman, Anne Melvin, Vickie Johnson, Jim Johnson, Robert Trautwein, Ann Savage, Jim Savage and Sheila Krowel.
SCCLBC Welcomes New Bowlers - March, 2016
This month, eleven Sun City Center residents decided to give lawn bowls a try. Those who take lessons can bowl their first month for free and if they decide to join, the Club has special rates for newcomers.
Shown from left, Lynn Stelter, Mary Phelps, Richard Stelter, Mary Mintz, Marty Beverly, Paula Nieto, Ramon Nieto, Shirley McMahon, Fred Specht and Marge Specht. Not pictured, Monique Smith.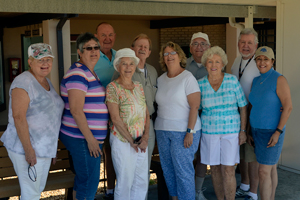 SCCLBC and Kings Point Home & Home Series, February 11 & 12, 2016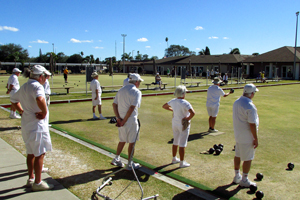 Seven teams from each club had a friendly match at each venue. By all accounts, a good time was held by all and plans are in the works for another session.
SCCLBC Visits Sun-n-Fun February 10, 2016
It was a cool breezy day but that didn't stop 24 of our members (8 triples' teams) from heading down the road to play a 2 game friendly at Sun-n-Fun in Sarasota. Sun City Center teams in the money were Diann Thomas, Larry Mabee and Glenn Baumann in 5th place and the team of Cindy & Garry Higgins with Bob Fladung in 4th. The Sun-n-Fun folks are great hosts and if you have never bowled there, you have been missing a great experience.

SCCLBC Welcomes New Bowlers - February, 2016
We have 5 new bowlers in the Club this month. Bob Fladung and his team are doing a great job of introducing new members to the sport and our club. Pictured below are Cindy Higgins (instructor), Lynn Cranch, Paul Melvin, Mark Lofland, Eric Porr, Ron Caldwell, Ava Casper (instructor) and Bob Fladung (instructor)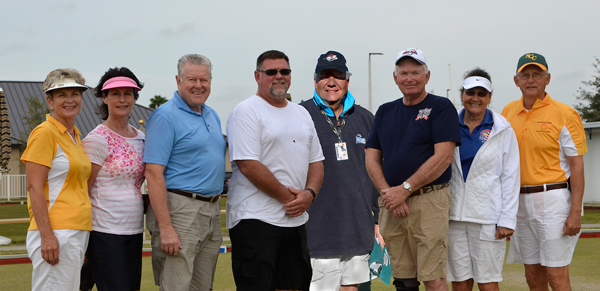 SCCLBC Welcomes New Bowlers - January, 2016
We welcomed nine newcomers to the sport in January. After completing the free training sessions, they joined the regularly scheduled Friday game. In the back row, left to right, Georganne Leshko, Gary Houdek, Terry Mattia, Joe Mattia, Doug Niehouse, Ed George, Ron Cress and Gary Sellers. In the front row, from left, Ava Casper (instructor) Dick Leshko and Bob Fladung (instructor). For more information about free lessons, stop by the greens (main campus), any member will be more than happy to help you and there is a lesson signup sheet in the clubhouse (Eberhardt Building).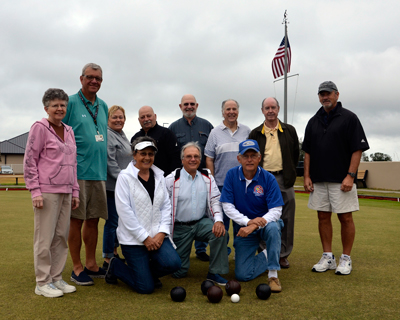 SCCLBC Welcomes New Bowlers - November, 2015
At the recent Hi Neighbor event, over forty people signed up to learn more about the sport of lawn bowling. To accommodate this spike in interest, the Club scheduled extra instructional sessions for November. Club instructors completed 2 separate weeks of coaching sessions with 10 new lawn bowlers.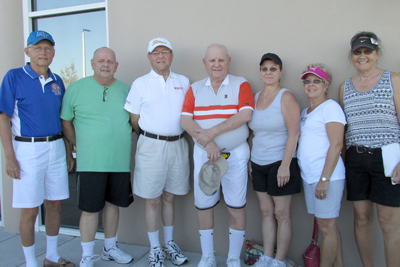 Left to right; Bob Fladung, John Clarkin, Corkey Grzankowski, Tom Bohan, Gloria Clarkin, Gail Weber and Ava Casper.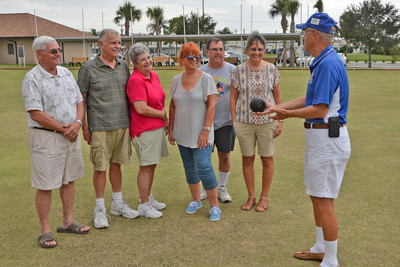 Left to right; Mike Lane, Keith Hutchings, Kathy Hutchings, Polly Pettit, John Buchla, Ava Casper and Bob Fladung.
Bowls USA Hall of Fame Inductees
Bowls USA Hall of Fame honors individuals for their exceptional contribution to Lawn Bowling. The men and women who are in this honorary club are known for their competitive spirit on the greens. Our Sun City Center Lawn Bowling club has the honor of having two bowlers inducted into the Hall of Fame this year, Patti Grabowski and Jack Phillips. The presentation was made at the SED Annual Board meeting on Dec 8, 2015 by President Beth Forbes.
Patti was a player in both national and international games. She became second vice president of the American Women's Lawn Bowling Association, president of the Southeast Division twice and president of the local Suncoasters twice. She participated seven times in the USA championship, winning once in women's pairs with Jo Gilbert and once in singles. Patti has retired from bowling due to health issues but her name and legacy will always remain with us.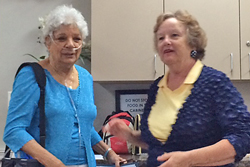 Jack Phillips was also inducted into the Hall of Fame this year. Jack started bowling in 1982. He served as President of Frick Park LBC and remains a member of that club today, along with our SCCLBC. He served as Secretary Treasurer of Central Division and was National Councillor for the Central Division. Jack was elected President of ALBA. He also served as treasurer of the Memorial Foundation. Jack ran Super Shots and ALBA Marketing for several years.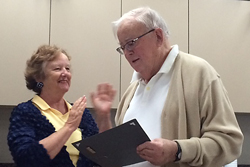 SCCLBC Welcomes New Bowlers - October, 2015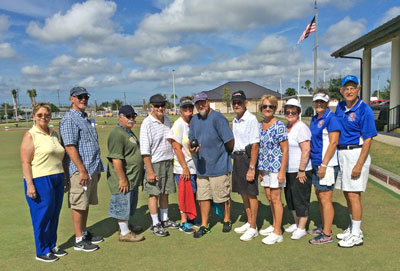 We welcome the following new bowlers who recently completed their training and are already enjoying our wonderful sport. From left to right are: Erika Barfels, Charles Bonaventure, Edward Bruno, Wayne Galpin, Brigitt Lewis, Marvin Lewis, Bill Noyes, Barbara Porter, Jean Smith, Trainers are; Ava Casper and Bob Fladung.
Maple Leaf Lawn Bowling Club Visits SCCLBC, March 4, 2015
On Wednesday, 8 teams from Maple Leaf Estates (Port Charlotte) visited the SCCLBC and played a morning and afternoon game. At the end of the day, the clubs had won 8 games each. The team of Mike Perkins, Kathy Gonnella and Greg Gonnella won the event with second place going to Ron O'Sullivan, Carol Finlayson (guest) and Larry Maybee.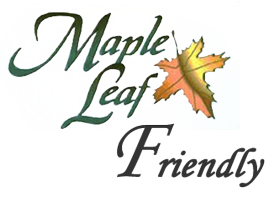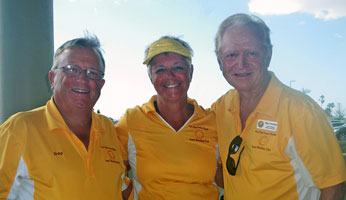 Sun City Center Lawn Bowling Club 2015 Open House
On Saturday, February 21, 2015, the Sun City Center's Lawn Bowling Club hosted an Open House for members of our community. It was an overwhelming success with over 60 people dropping in. The club was able to communicate what Lawn Bowling is all about, how it differs from Boccie Ball and the similarities to Curling. A team of over 25 members of the Club worked together as greeters, those in charge of the barbecue, many demonstrating the game and some signing up participants. Diann Thomas is the club's instructor and is skillful in explaining the fine art of Lawn Bowling. She has 25 students signed up to take lessons in March. More pictures in the
Photo Gallery
.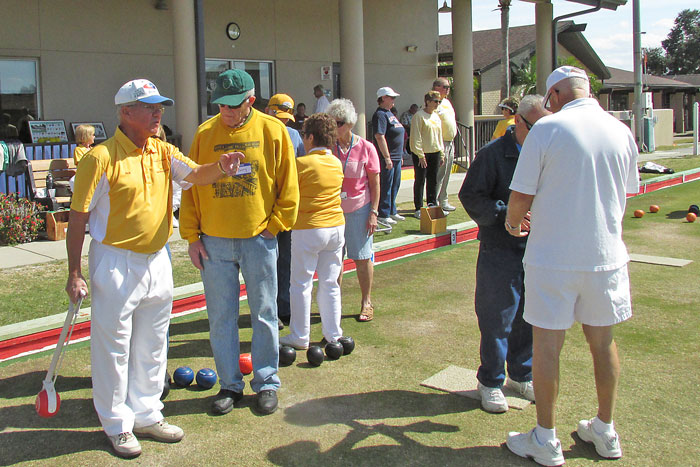 Sun City Center lawn bowlers visit Port Charlotte
On Sunday, January 11, 2015 as part of a friendly annual competition, eight teams of lawn bowlers from Sun City Center paid a visit to their counterparts in Maple Leaf Golf and Country Club in Port Charlotte. Two games of 12 ends each were played, one before and one after lunch, with delicious snacks and lunchtime add-ons kindly provided by the ladies of Maple Leaf. Keeping track of the wins and losses was Alice McLean and her husband Jerry. They say that the home club has the advantage of knowing how their own greens play and that would seem to be borne out by the fact that the Maple Leaf teams won the majority of the games during the day. However, two Sun City Center teams were among the top six teams, those skipped by Cindy Higgins (with Garry Higgins and Tony Hawken) and Joe Mignogna (with Kathy Gonnella and Mike Perkins).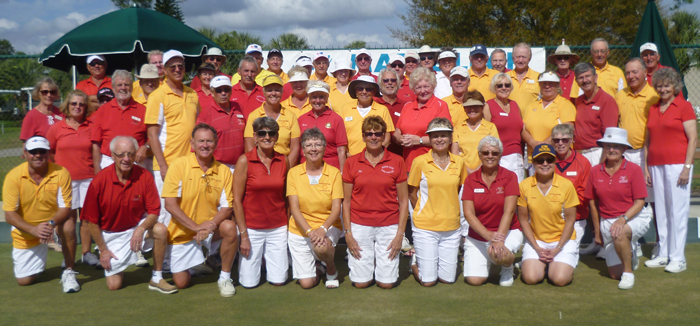 Maple Leaf teams wearing red and Sun City Center teams in gold made a striking photo
on what was surely the warmest day of an otherwise very cool week.
---
The Game
Close "The Game"
How to Play - An Overview
Description of the Game
Lawn bowls is an outdoor game in which a ball (known as a bowl) is rolled toward a smaller stationary ball, called a jack. The object is to roll your bowls so that they come to rest nearer to the jack than those of an opponent; this is sometimes achieved by knocking aside an opponent's bowl or the jack. The bowls are not exactly symmetrical- one side is more rounded than the other, causing the bowl to curve to one side as it slows down. This is referred to as the "bias" of the bowl.
The game takes place on a 120 ft. square of closely cut grass called a green. A green is divided into rinks 14-16 ft. wide, generally 8 rinks to a green.
Four types of games can be played:
Singles: one player against another, each using four bowls.
Pairs: a team of two against two, each playing using four bowls.
Triples: a team of three against three, each player using three bowls.
Fours: a team of four against four, each player using two bowls.
Play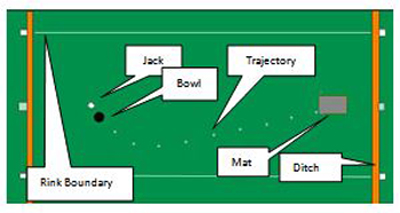 To begin play, a jack is rolled to the opposite end of the rink, and it becomes the target so long as it stops at least 21 meters (68' 10") from the delivery mat. In singles and pairs (doubles) games, each player uses four bowls; in triples each player uses three bowls and in fours each player uses two bowls.
Each player's bowls are distinguished by a design on the side; no two sets of bowls in the world has the same design. Players take turns delivering their bowls. When all bowls have been delivered by both teams, an "end" has been played. Before play begins, the number of ends to be played is decided, 10, 12 or 14 being the most common.
Scoring
In scoring, each of the bowls of one team nearer the jack at the finish of an end than the nearest bowl of the opposing team counts for one point. The team with the highest number of points at the completion of the specified number of ends is the winner. A game generally lasts about two hours.
Free Lessons
To sign up for lessons, please write your name on the list posted at the back of the locker room in the Eberhardt Building (behind the lawn bowling greens).
Equipment
Personal Equipment
Shoes: When you become a more serious and regular member, you will want to have a pair of specific bowling shoes. But for all beginners, and many others, all you need is a pair of smooth soled shoes so that you do not mark the green. Tennis shoes, for example, are ideal, as are many walking shoes. If you are buying a new pair, choose white ones so that you don't need a separate pair for white days. As a real newcomer, this is the only must-have equipment item.
Clothing: All white, or cream, clothing is required for tournaments, or matching club shirts. This helps preserve the old traditions of the game - though, of course, many of us wear shorts in summer (even for tournaments) which the old Scots never would have done. On all other occasions, any comfortable clothing will suffice. Because of the heat and glare, a hat or visor is definitely a necessity for most bowlers in many parts of the USA.
Bowls: For beginners and visitors, most clubs maintain a stock of bowls you may borrow (or rent). But as you play more regularly, you will want your own personal set that you can enjoy, maintain and roll predictably. Each set of four has a unique logo or pattern on them so you can identify your own in any game. One set of bowls will last you ten or more years with just the basics of maintenance and proper storage in their carry case.
Measure/Chalk: Special tape measures exist for bowling to resolve those close calls, as well as spray chalk to mark bowls that touched the jack. Keep these in your pocket, especially when you are playing Vice.
Name Badge: All members of the club are issued personal name badges. Most of us wear them on our hats or visors. While we might know you well, this does help newcomers and visiting club players to get your name right.
Locker: A locker is available for a minimal fee to store all your equipment.
Club Equipment
Jack: That little white ball we roll first and spend all our efforts chasing thereafter. Mat: The starting point for every roll of a bowl.
Markers: These vary from club to club, but they are generally white or yellow to mark the boundaries and center of rinks in use that day.
Scoreboard: Traditional as it is, we all enjoy putting the scores up on old-fashioned chalk blackboards.
The Green: The green itself is carefully maintained in all cases, in conjunction with our Community Association. Please always treat the green surface with the utmost care.
History of the Game
Lawn bowling historians believe that the game developed from the Egyptians, dating circa 5,000 BC. The sport spread across the world and took on a variety of forms, Bocce (Italian), Bolla (Saxon), Bolle (Danish), Boules (French) and Ula Maika (Polynesian). The oldest Lawn Bowling green still played on is in Southampton, England where records show that the green has been in operation since 1299 A.D.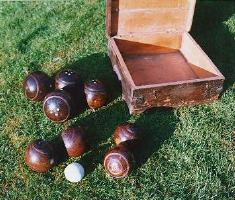 Certainly the most famous story in lawn bowls is with Sir Frances Drake and the Spanish Armada. In 1588, Drake was involved in a game at Plymouth Hoe in Devon, England when he was notified that the Spanish Armada were approaching. His immortalized response was that "We still have time to finish the game and to thrash the Spaniards, too." He then proceeded to finish the match which he lost before embarking on the fight with the Armada which he won. Whether this famous story really took place has been heavily debated.
King Henry VIII was also a lawn bowler but banned it for those who were not wealthy as he wanted the workers to spend more time practicing their trade instead of lawn bowling. King James I issued a publication called "The Book of Sports" and, although he condemned football (soccer) and golf, encouraged the play of bowls.
There are competing theories as to etymological origin of the word "Jack" (the small white bowl which is the "target" in lawn bowling), in use since 1611, but the most straightforward theory and the one most flavored is that it appears that Jack in some contexts meant a slightly smaller version of something. For example a jack-rabbit is a little rabbit. In this case a 'Jack-Bowl', was the little bowl, later shortened to 'Jack'.
Set of bowls with jack, C 1920. Note that these bowls are made of wood.
---
Lawn Bowling Etiquette
Close "Etiquette"
Lawn Bowling etiquette is about good sportsmanship and common sense.
Here are some tips;
Be punctual.

Begin and end each game with a handshake. Be a gracious winner and a good loser.

Be ready to step to the mat and play when it is your turn. Possession of the mat is yours only until your delivered bowl comes to rest.

Wait quietly behind the collection of bowls and be prepared to take your next turn. Distractions such as loud noises or conversation, visible movement of players, objects or shadows, impact of kicked bowls, etc should be avoided while a bowler is on the mat preparing for delivery.

Remain quiet and still on the green behind the head and away from sideline markers until the score has been agreed upon by both teams.

You are part of a team, keep your head in the game.

Simply adjust your bowling to adverse conditions.

Criticism should always be constructive and given privately.

Be sure to compliment a good shot from either your team or an opponent. The enjoyment of a game of bowls is diminished if either team indulges in gamesmanship.

Be sure to support our teams by attending inter-club events.
---
About
Close "About"
How it all started...
Mr Del Webb commenced the construction of a retirement community between Tampa and Sarasota named Sun City Center in 1961 and the facility was officially opened in January 1962. Mr Webb was a keen lawn bowler (as was his good friend Walt Disney) and the first lawn bowling green at Sun City Center was completed in the same year.
Initially ladies were not permitted to become members however eventually the men gave way and allowed ladies, as guests, to lawn bowl on Tuesday afternoons. Later the ladies were allowed to play on Tuesday and Friday afternoons, hence the formation of the Tuesday and Friday Ladies Club which is still active today. This is a club within a club and, apart from lawn bowling, they enjoy a number of social activities. Eventually the rules were changed, and the membership was amended to include women.
The number of members has fluctuated over the years. Initially there were approximately 100 members; however it gradually grew and peaked at 420 in the 1990s. By that time, 3 new greens had been added.
The new magnificent Club House was built in 2002. The cost of construction was covered by members' donations, a large gift from long-serving members, Mr. and Mrs. Bill Eberhardt, and from The Community Association. Appropriately the building is named " The Eberhardt Building" .

Other clubs who play under the umbrella of the Sun City Center Lawn Bowling Club are the Tuesday and Friday Ladies, and the two clubs which are affiliated to the Bowls USA, the governing body of lawn bowling in the United States - The Suncoasters (ladies), and the Pebble Beach Lawn Bowling Club (men).
2017 Board of Directors
President:
Jerry Healy
Executive Vice President:
Rick Czachor
1st Vice President:
Joe Mignogna
2nd Vice President:
Kathy Gonnella
Secretary:
John Glynn
Assistant Secretary:
Toni Sheppard
Treasurer:
Mike Fracher
Assistant Treasurer:
Rick Abell
Marketing:
Garry Higgins
Director of Training:
Bob Fladung
Croquet Director:
Open
By-Laws (Revised 01-12-17)
2017 Committees & Chairs
| | |
| --- | --- |
| Audit | Jim Bittman |
| Badges/Tags | G&K Gonnella |
| Equipment | Joe Ricar |
| Finance Planning | Rick Czachor |
| Greens Chair | Jim Byrne / Eric Porr |
| Nominating Committee | Past Presidents |
| Publicity | Garry Higgins |
| Rules | Cindy Higgins |
| Social Chair | Peder Janssen |
| Training | Bob Fladung |
| Website | Garry Higgins |
| News Editor | Marge Lange |
Suncoasters Lawn Bowling Club
The Suncoasters Lawn Bowling Club is the female equivalent to the Pebble Beach Lawn Bowling Club and is a section of the Sun City Center Lawn Bowling Club. Its members bowl every Monday and Thursday afternoon as well as participate in all morning sessions which are open to the whole club. Membership in Sun City Center Lawn Bowling and Croquet Club is required in order to join Suncoasters. The ladies also hold triples, pairs and singles tournaments each year.
Pebble Beach Lawn Bowling Club
The Pebble Beach LBC is a section of the Sun City Center Lawn Bowling Club. Membership is all male, and the Suncoasters Lawn Bowling Club is its female counterpart. Pebble beach Lawn Bowlers are also required to be members of the Sun City Center Lawn Bowling and Croquet Club.
Members bowl each Monday, Thursday and Friday afternoon as well as every morning, along with regular club members. Pebble Beach triples, pairs and singles tournaments are played every year.
Address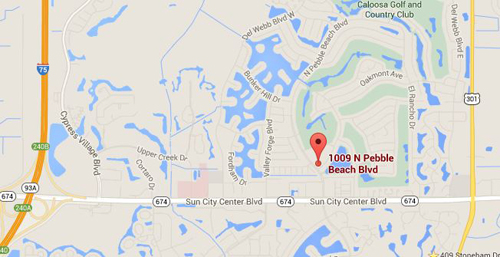 1009 North Pebble Beach Blvd., Sun City Center, FL 33573-5892
Directions
From I-75, travel east on SR 674. Continue through four sets of traffic lights, to North Pebble Beach Blvd., the fifth set of traffic lights.
Turn left onto North Pebble Beach Blvd and continue to the third street on your right - Cherry Hills Drive.
The Sun City Center Lawn Bowling Club is located just past Cherry Hills Drive, on the east side of North Pebble Beach Blvd.
Parking is extensive and can be found immediately after turning off of North Pebble Beach Blvd.
Contact
---